New Year Blessing Ceremony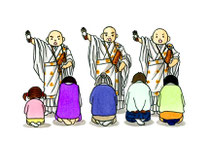 We will be held new year blessing service on next year January.
We will have buddhism blessing for believer's prosperous and new year protection.
Please feel free to visit us with greet to your ancestors at new year fist opportunity.

One Day Retreat for Children
We will be held one day retreat for children.
We would like to propagate and teach buddhism and buddhist manner to children.
So we will be held one day retreat called Teragoya for children.
We will give lecture Buddhist manner like how to make offering incense and make gassho.
And then We will train shakyo copy writing the sutra.
And then we will read the blessing prayer with children copy sutra at new year blessing ceremony.
We will play the Karuta game (traditional japanese card games) from evening after finish ceremony.
We have gift for every children
At old past, Temple was held buddhist school for children for study buddhist heart and teaching.
We as zuikoh-Ji temple would like to revival this school.
At this new year, we would like to change Japanese buddhism world.

Please feel free to visit our special ceremony and One day retreat.